Everything Old is Almost New Again

We can now imagine the Kettle Falls Theater, built in 1940 by Henry Wood, will continue into the future as a dynamic venue for the performing arts. Widespread community support and diligent stewardship have kept the theatre humming since the original members of the current Woodland Productions made it their performance base in 1978. Beginning in 2015 the Grants/Funding Committee and the Woodland Board of Directors began a number of major projects to add stability to our building and increase safety, accessibility, and comfort for both performers and audience members.
****************

CAPITAL CAMPAIGN PHASE ONE 2015-2019 *****************

Assistive Hearing Devices by Williams Sound are now available thanks to a grant from Empire Health Foundation.

A rebuilt smooth stage surface is in place for dance and set movements, thanks to funding from the Colville Vinson Fund and the extensive efforts of Sean Taboloff.

A three-part heating and ventilation system with air conditioning and improvements in weatherization is working thanks in part to a Community Strategies Grant from the Inland NW Community Foundation and the efforts of Andrew Urbaniak.

A 2017 façade facelift, returning the theatre to its more iconic look, started with replacing the 1970's-era
barn boards
with a new stucco exterior below the roof line and adding new double-pane windows, all done with Woodland Capital Campaign funds.

A newly redesigned entryway with consistent steps and strong, artistic handrails was completed with all design, construction and materials contributed by Ben Aherley and Andrew Unbaniak.

Two permanent poster display cases and a large letter marquee have been installed on the rebuilt façade thanks to a grant from the Colville Vinson Fund.

Safety improvements were made to the handicap exit, including lighting, handrails, and a roof to shed snow and rain, funded in part by a 2017-2018 Empire Health Grant.

A 2018 grant from Inland NW Community Foundation allowed the upper façade work to proceed. New stucco was completed between curved parapets in 2019. The front roof is now returned to being flat, shedding water towards the east, avoiding the front sidewalk.

Last in this series was a project to replace the deteriorating stucco on the back portion of the theatre and enclose the porch, soffits and gable ends. WA State Heritage Capital funds were secured to cover much of this work. Instead, damage to the underlying sructure was discovered and the State grant was used to build a protective envelope and flat roof over the entire backstage area. A new interpretive sign was installed by the theatre's lobby entrance as part of this project.
****************

CAPITAL CAMPAIGN PHASE TWO 2020-(2024) *****************

The façade is now ready for an illuminated WOODLAND THEATRE tower to be installed, as time and funding allow. The new look will be reminiscent of the original 1940's theatre.

Rebuilding the backstage to one level with more space and improved accessibility
is nearly complete
.
Thank you to our
Grantors
:
The Colville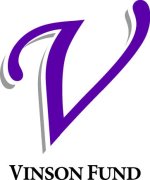 2015 stage upgrade
2017 permanent signs and marquee for the front façade
2019 new stage curtains, rigging, and headsets
2021 backstage handicap lift

***********************************************************************
Community Strategies grants for new heating and cooling systems in 2016
and the upper façade upgrade in 2018-19
***********************************************************************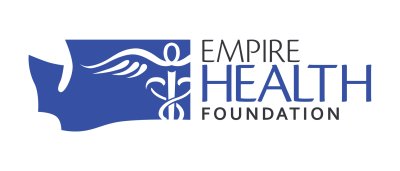 For a 2015 Rural Aging Responsive Technology Grant
and a 2017 grant for the handicap access upgrade
**********************************************************************
WA State Heritage Capital Fund 2018-2019 grant for building preservation.
2021 Backstage Rebuild Business Donors
ABEID CONSTRUCTION
BOISE CASCADE CORPORATION
NEW TEC
PURPLE FLAT TOP
VAAGENS LUMBER
2022 Backstage Rebuild Business Donors
CHRIS & CHRIS KETTLE RIVER KOMFORTS
EDIGER CONSTRUCTION
KEYPLACE
PLUMBTECH
DAVE KELLER

Thanks to the amazing Woodland volunteers who have given time to all the Capital Improvements
Most notable for 2019 are Andrew Urbaniak, Dave Jones, Tom Drake,
David King, Jerry Voelker, and Ben Atherley.

Most notable for 2020 are Andrew Urbaniak, Sean Taboloff, Nancy Christopher,
Peggy Townley, Tom Drake, and Stazya Richman
Most notable for 2021 are Sean Taboloff, David King, Bob Chipps, Jesse Roberson,
Jeremiah Werner, Lou Janke, Tom Drake, Mike Eakins, Cathy Merrill,
Ed Shaw, Glenn Koen, Kevin Wolfe, Andrew Urbaniak, and Lesley Mann

Most notable for 2022 are Sean Taboloff, Ed Bryan, Paul Sanger, and David King

Major Donors contributed $28,944 in 2022
Major Donors 2020-2022 have contributed $142,821 (updated 1/4/2023)
**********************************************************************************
Friends of Woodland Theatre 2021-2022
(Friends are listed in the year they donate and the year following)
CENTER STAGE: Dave Johnstone, Jerry Voelker, Nancy King ($400 - $499)
REACH FOR A STAR: Amalia Hutchison (Gael Treesiwin), Catharine Whitby (Virginia Bennett),
Emily & Steve Raysom, Jackie & Bob McGregor, Janis L. & Michael L. Kinsman, Joby Herman,
Jonathan Hoyt (Laura Hoyt), Joseph Kerns, Kent & Bev Brown, Kenneth & Mary Hendricks,
Kit & Sherron Schultz, Lavera Wade, Louis & Deborah Janke, Marty & Kris Kittelson,
Mike Jackson, Nancy Christopher, Sheila & Phil Stalp, Shellee Haynes, Stazya Richman, Stephen & Jean Papst,
Ted & Cecily Van Cleave, William Stewart ($150 - $399)
GIVE A STANDING OVATION: Allan & Cynthia Curtis, Amy Kegel, Bruce & Barbara Richartz,
Charlene & Larry Boelger, Denise Horner, Don Worley & Alice Aldous, Ed Bryan,
Ed & Shirley Billiet, Edward & Doreen Culnane, Eileen & Carl Bach, Elinor Distler, Evelyn Florio & Al Kowitz,
Fred & Suzanne McCurdy, Hatchisoft Corporation, Heather Ugorowski (Karen Moullet),
Jacklynn & Jeremiah Somday, Jacob Harris, James & Markey Sandhop, Jan Elliot, Jay & Janice Berube,
Jennifer Clark, John & Janice Murphy-Hill, KF Lady Lions, Laura & Brian Golphenee, Laurie & David Kulp,
Leslie Kristiansen, Linda & Charles Matson, Linda Short & Mark Egland, Madilane Perry & Raymond Bilderback,
Margee Richart, Mark & Donna Estabrook, Mary Fossum, Nancy Heater/Style Makers, Richard & Sylvia Platts,
Robyn Hodges, Roger & Patty West, Sean Taboloff, Sharon Tucker, Stephen & Lynn Schott, Su Martens,
Susan Brown, TJ's Bar & Grill, Valaree Albertson & Gordy Woods, Windermere Realty ($35 - $149)
BE IN THE SPOTLIGHT
:
Alik Roesbery, Christy Merritt, Danielle Chambers, Dragon Village Restaurant,
Jan & Roger Dormaier, Jane & Arthur Metzger, Jeani Brozik, Johannes & Deborah Krug, John & Janice Dorwin, Judi Barefoot,

Kaye Raymond, Lea Casita, Marian Musmecci, Malissa Elliot, Nick Morris
($1 - $34)
The above Friends have given a total of $13,273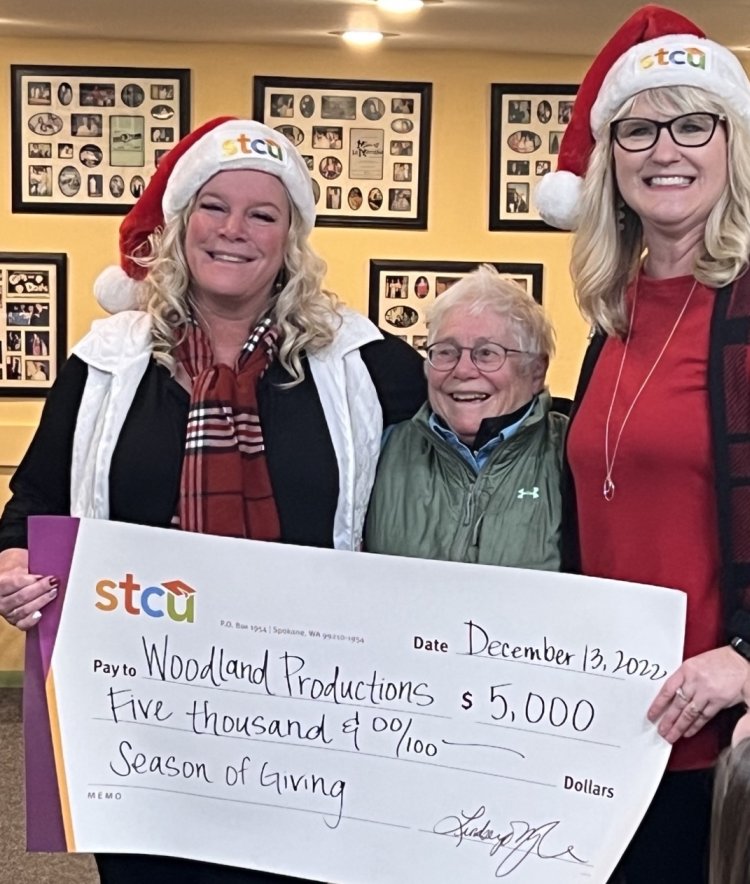 STCU branch managers Heidi Braun and Leanne Pomrankey pose with Woodland Board President Amy Cabral,
presenting a donation of $5000 to Woodland Theatre.
Many Thanks.
Revised 1/3/2023
Thank you to all who have contributed !!!!

This is the perfect time to become a Friend of Woodland Theatre or
a Major Donor by making a tax-deductible contribution to
Woodland Productions
PO Box 524, Colville WA 99114.