Upcoming Productions
"Bringing in Spring Concert"
Our annual spring concert will be at the Woodland Theatre Saturday April 27th 7pm and Sunday April 28th 2 pm. The band, with Gary Killings as the Director, is playing varied pieces of music from "The Great Locomotive Chase" to "Music from The Incredibles." The choir is planning to sing a Cole Porter Medley with instrumental accompaniment. The strings and the Ring Joy Handbell Choir will fill out this warm and thawing spring concert.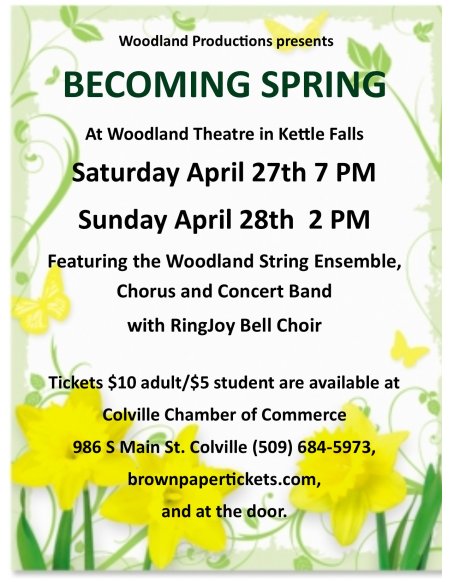 Purchace tickets from brownpapertickets.com
---
Disney's "THE LITTLE MERMAID JR"
July 11, 12 6:00 PM
July 13, 14 2:00 PM
July 18, 19 6:00 PM
July 20, 21 2:00 PM
Other future productions are in the planning stage.