What's New:

*NEW* as of 8/26/2023
Online CALENDAR of Woodland activities.

---
Large Rental Unit available: 215 S Meyers Street Kettle Falls.
882 square feet, with large garage type doors, suitable for Boat or RV storage.
Power available, $300/month or best offer.
Contact Nancy at nchristopher1@hotmail.com 509 680-6146 or
Lou at Lou.Janke@gmail.com 509-680-2967.
(Not suitable for living quarters.)
---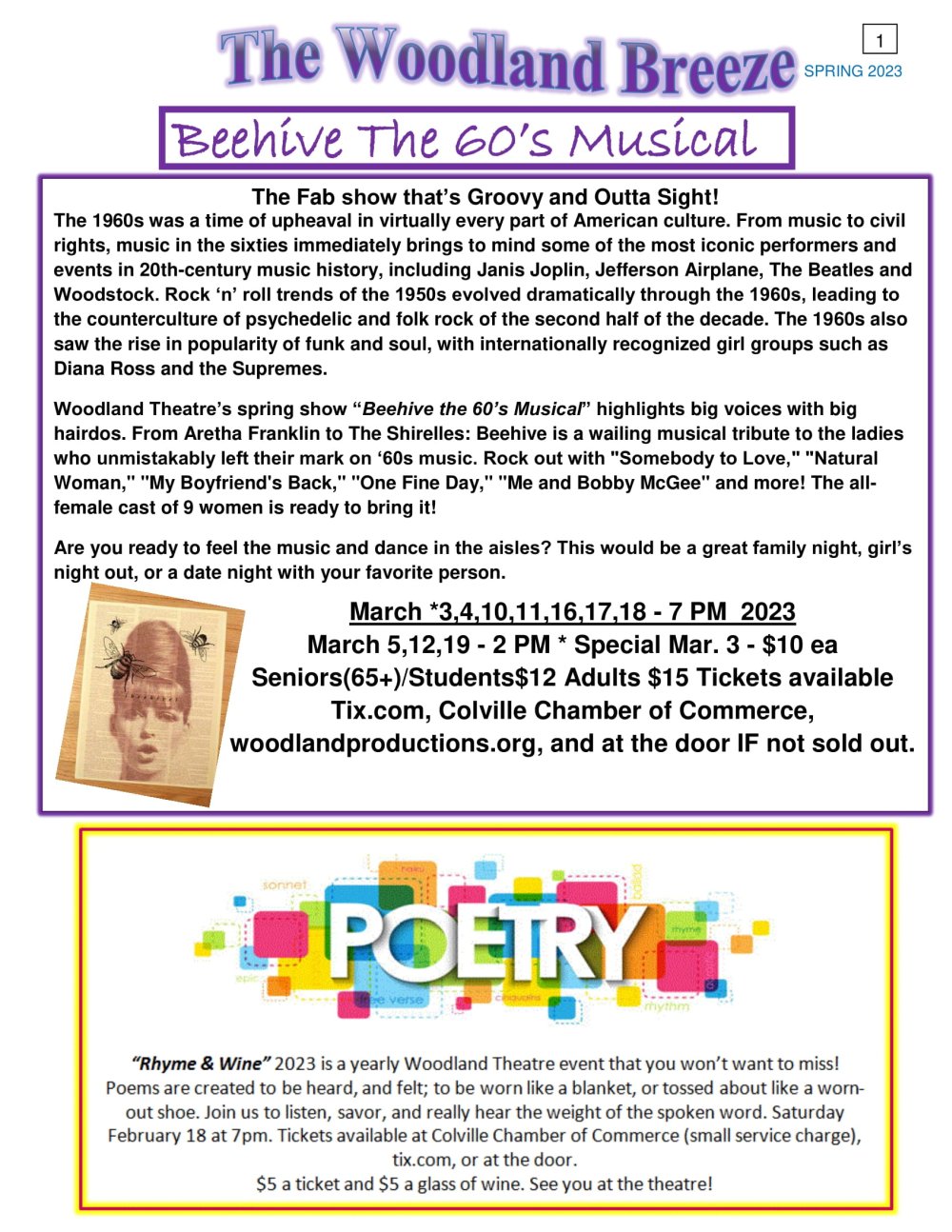 After this newsletter was published, the following concert date was
changed from Saturday the 29th to Friday the 28th
to enable some of our high school musicians to participate in both our concert Friday and their Prom on Saturday.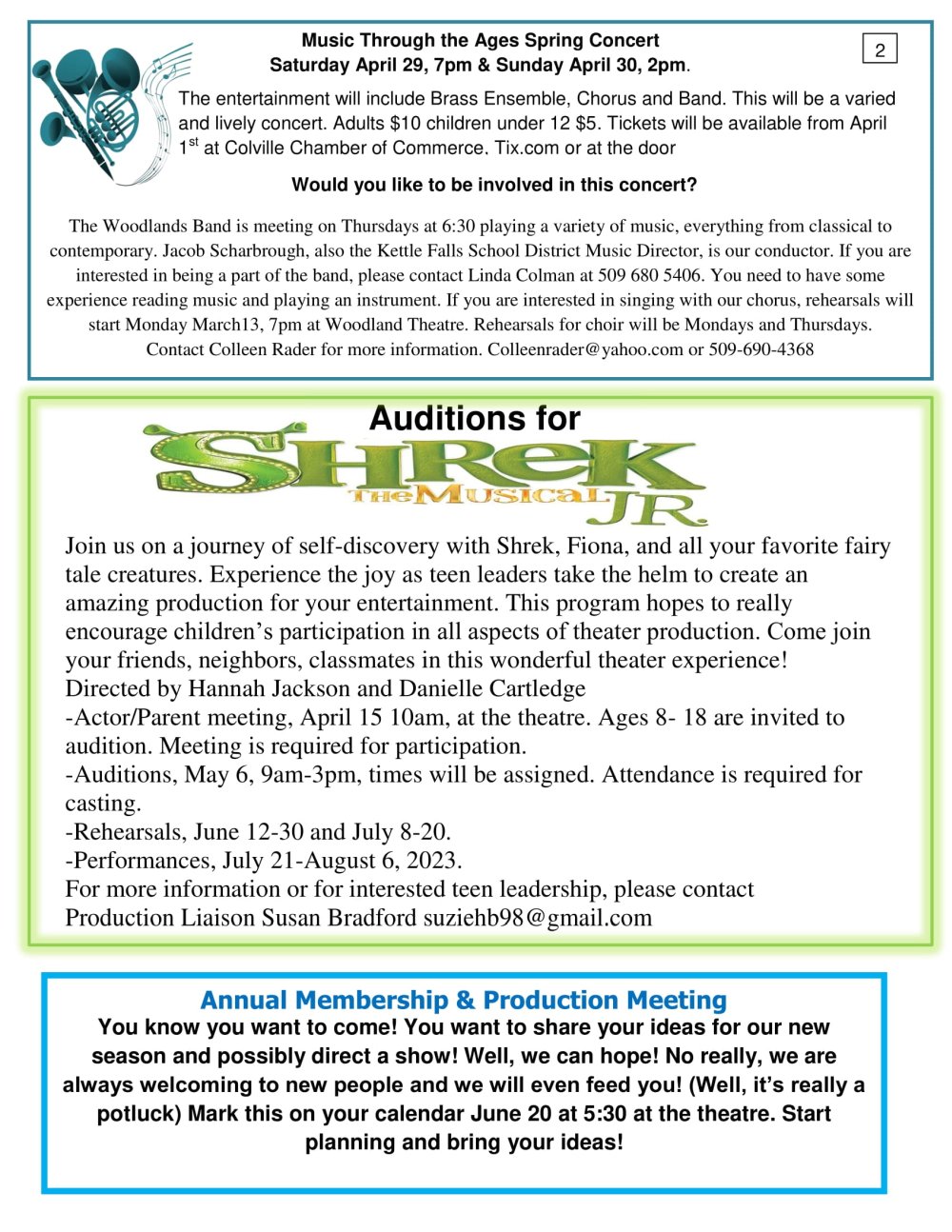 The Annual Membership and Production Meeting
has been rescheduled to Tuesday June 6
at the theatre.
Backstage tour 5:00
Potluck at 5:30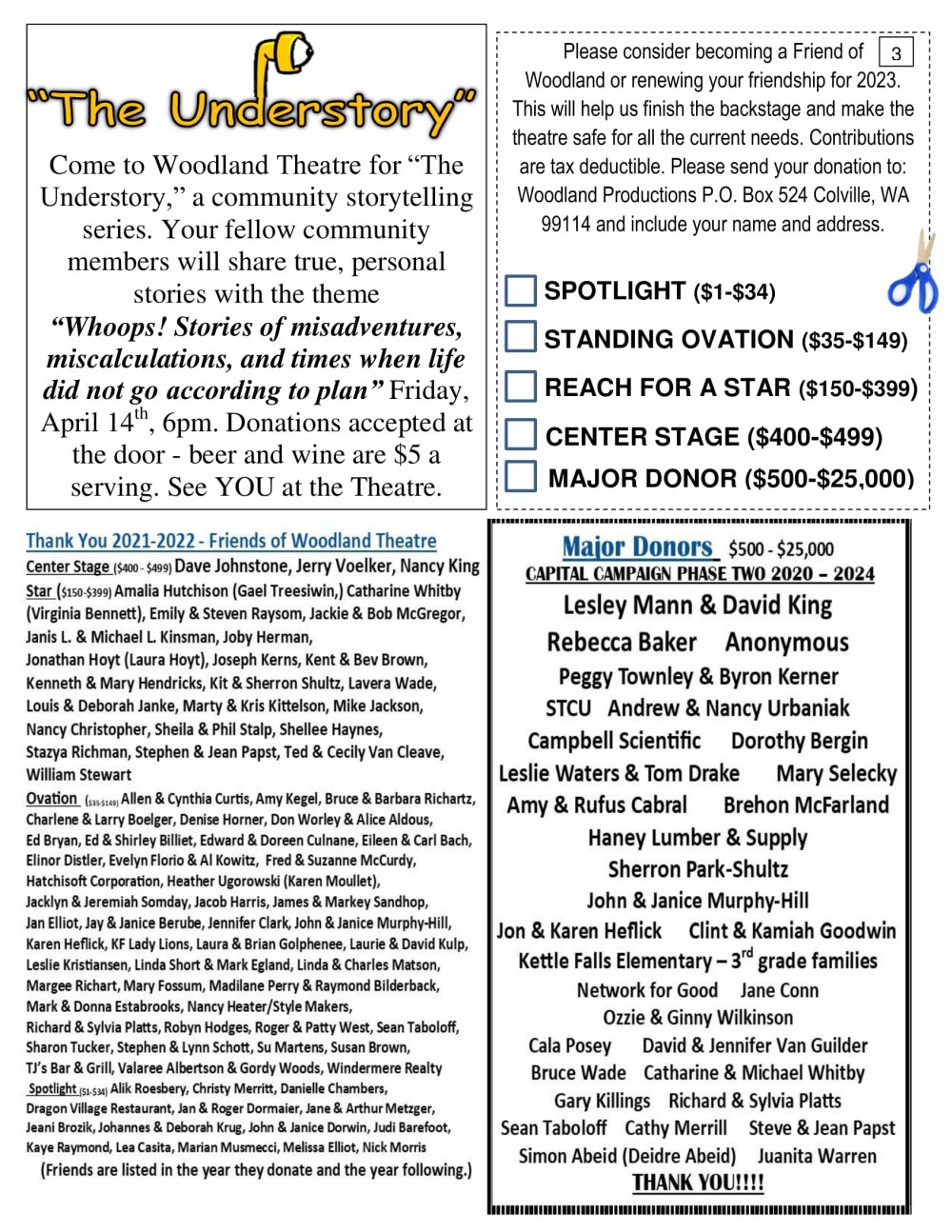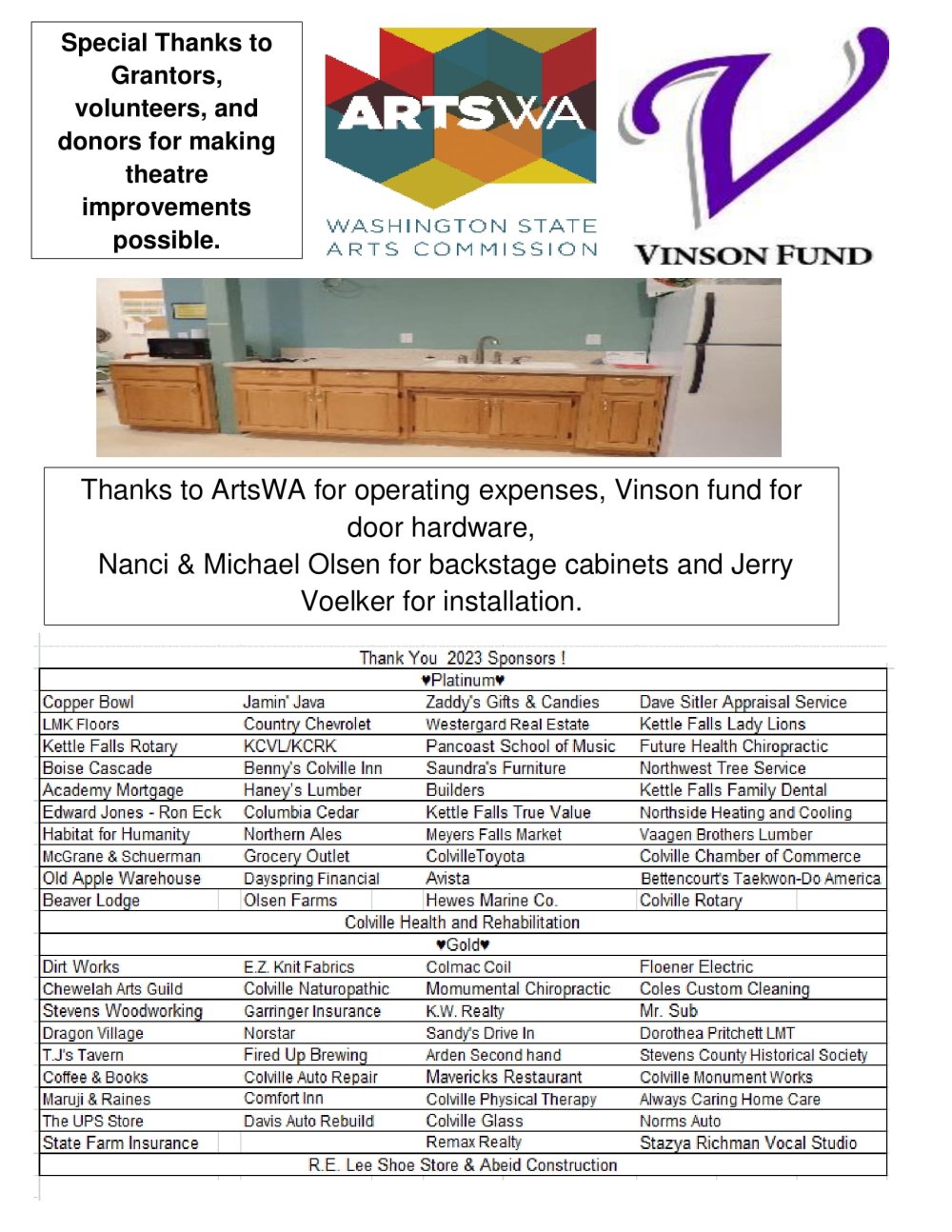 Spring 2023 Newsletter as a pdf
amended 4/5/2023
to include correct concert dates
---
---
August 2022
Children's Productions Chair Linette Richie and alternate Ara Bush resign
---
---
CHANGE beginning July 2022
The Woodland Board meets the
second or third Tuesday of the month at 5:30,
usually at the Theatre
---
July 2022 STILL NEEDED for the BACKSTAGE
• Cabinets and counter for 10 foot space
with sink cutout
• Apartment size electric range, 24" wide
• Range hood and upper shelves or cabinets
• Stacking washer and dryer
• Cloth-covered sound-board for noise reduction
• Cash donations to pay off a $30,000 line of credit
and small additional wiring and plumbing needs

---
V



Slide show: Volunteers remove the old backstage
---
---

Early June 2021

Brown Paper Tickets has finally given us the
$11,029.00 they have owed us since March 2020 from Mary Poppins ticket sales. (They paid no interest)
---
---
And what's not so new:
---
Changes to the back of the Theatre May-June 2019

Stucco gone
New perimeter excavation

New perimeter foundation
Old roof disappearing



The new envelope




On top of the new envelope


Our new (as of May 2019)
expen$ive PARKING LOT!
i


Inside the Quonset hut on our new lot
And, the Front Facade is nearly complete, August 2019

---
---
Woodland Theatre gets a new
"Big Screen"
December 2018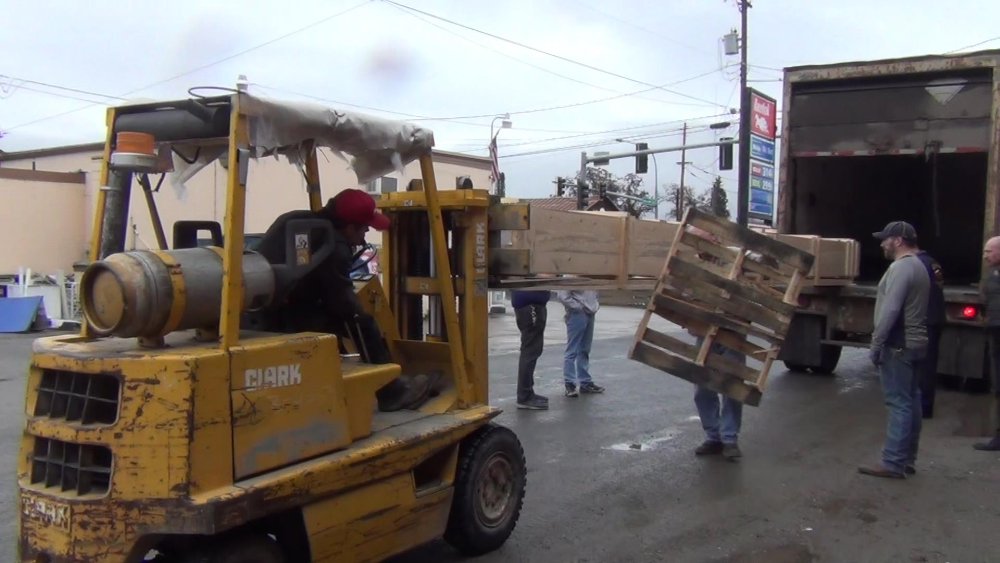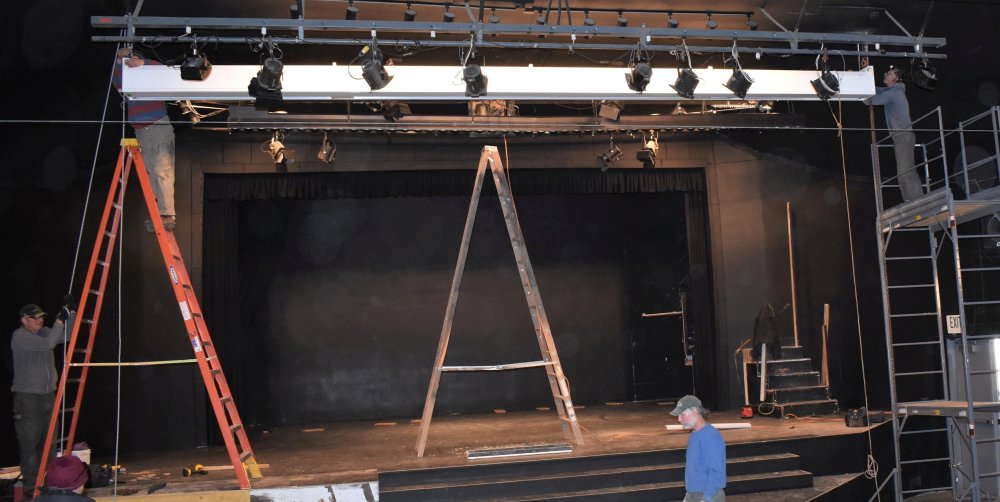 ---
Assistive Listening Devices Available in 2015
Thanks to a grant from the Empire Health Foundation, Woodlands offers assistive listening devices to our patrons who suffer from hearing loss. There are twenty devices available on a first-come basis. Devices can be checked out from the box office prior to each show. There is no charge for using a device, but they must be signed out with valid ID. Devices are available for Woodland Productions events only.